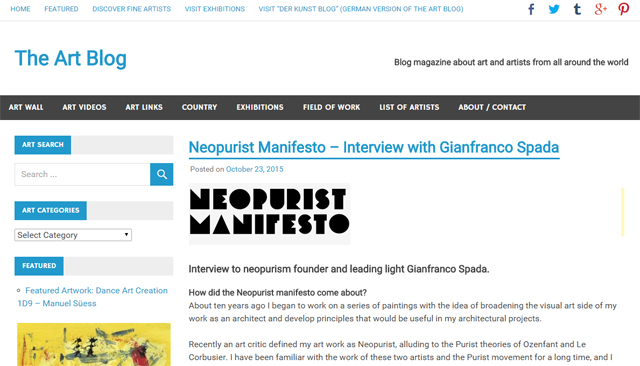 Published in: The Art Blog
By Luisa Arienti
– Source: http://the-art-blog.info/3161/neopurist-manifesto-interview-with-gianfranco-spada/
– Read in pdf format
Interview to neopurism founder and leading light Gianfranco Spada.
How did the Neopurist manifesto come about?
About ten years ago I began to work on a series of paintings with the idea of broadening the visual art side of my work as an architect and develop principles that would be useful in my architectural projects.
Recently an art critic defined my art work as Neopurist, alluding to the Purist theories of Ozenfant and Le Corbusier. I have been familiar with the work of these two artists and the Purist movement for a long time, and I had read about the movement, but I had never connected it to what I was doing. Rereading "Après le cubisme", written in 1918 as the foundation text of the Purist movement, I realised how much common ground exists between that movement and what I am trying to do a hundred years later, but also the extent to which my work goes a step further. That is why I understand that I should be termed a "Neopurist". While pondering the core principles of Neopurism, I thought of drawing up a manifesto.